click here to send email CYCLEPATHZ presents click here to send email
S N A K E C H A R M E R S
LINK TO 2002 SITE
2000 RACE DAY SHOTS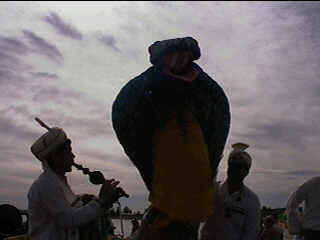 1st Place Overall 21st Annual Kinetic Sculpture Challenge
1st Place Sculpture
1st Place Costumes
1st Place Style
2nd Place Engineering
2nd Place in Race Finish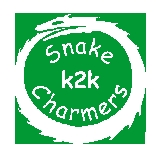 click to see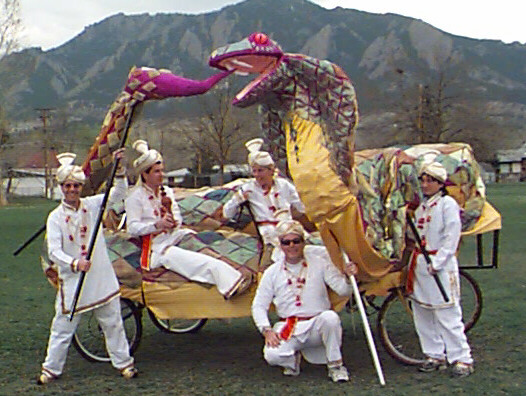 latest construction photos

click to see costume

click to see early construction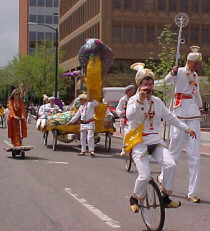 parade day
for k2k (kinetics two thousand)
Quadracycles
For Sale!
SPONSORS
SILVER
New Belgium Brewing Company



BRONZE
InfoUSA 800.555.4550 Marketing and Sales Data www.infousa.com
Jax Fish HouseRestaurant 303.444.1811
Malibu Boats- 209.383.7469 Boating www.malibuboats.com
Mark Herlinger Productions 303.455.4177 Video Production www.media-products.com/mhp.htm
RallySport 303.449.4800 Health & Fitness
Sports Garage Cycling303.473.0033
Walnut Brewery- 303.447.1345 Restaurant www.walnutbrewery.com
other contributors
21 Wheels- 303.544.0025 www.21wheels.com
Environmental Systems Research Institute, Inc. 303 449 7779 www.esri.com
Karen Ellenburg & Boulder Business Products 303.516.1577
Full Cycle 303.440.7771 www.fullcycleboulder.com
Pro Peloton 303.415.1292 www.propeloton.com
S&W Marine 303.429.1895
Wordly Goods
Link to other 21st Annual Kinetics Teams
For information about Kinetics check out


See also our previous kinetic sculptures
1999 Blown Away! The Wind Energy Airheads
1998 Global Warming ... The Earth Kabob
Cyclepathz needs your help as a sponsor to support the development of a new Kinetic Sculpture for competition next spring in Colorado!
The KBCO Kinetic Sculpture Challenge draws tens of thousands of spectators and news media attention to the Boulder Reservoir on the first Saturday of May each year. The year 2000 event will be the 21st annual celebration, where contestants must design, build, and race a "kinetic conveyance" that is capable of completing a grueling course of sand, water, mud, dirt roads, meadow, a narrow bridge and other obstacles. The craft, which is judged on its engineering, speed, sculpture, costumes and style, must be 100% human powered.
Cyclepathz is a team that has competed in this event since 1998. The team is composed of employees of the National Renewable Energy Laboratory, Environmental Systems Research Institute, students at the University of Colorado, and other individuals associated with local organizations who have banded together to design and build a craft for the event. The team includes many high-energy, talented people including several mechanical engineers, two machinists, communications specialists, graphic designers, software analysts, and accomplished seamstresses.
The first craft by Cyclepathz was entitled " Global Warming…The Earth Kabob ". The craft was built using sponsorships, proceeds from a bake sale, and personal funds of team members. The team entered the Kinetics scene with a spash when, in that first year, the team took five trophies including first place in Engineering and second place overall! During the parade and pre-race festivities, educational brochures were distributed that taught about global climate change and simple actions people could take to reduce its effect.
In 1999 the team improved upon the mechanics of the craft and built a new sculpture. Entering as "Blown Away!!…. The Wind Energy Airheads!" The team finished the race in 2nd place, beating all other crafts with large sculptural elements, and again earned five awards. In the process, the team distributed brochures that educated people about the benefits of wind energy and gave them contacts for getting wind energy delivered to their homes through the WindSource program.
For Kinetics 2000 (K2K), the team has chosen a theme that incorporates an environmental message but is less literal and more sculptural than previous themes. The "Snake Charmers" entry will be accompanied with a brochure that outlines the myth of Ouroboros – the snake that sustains itself by consuming its own tail. Ouroboros has been a symbol of sustainability and recycling for hundreds of years and will be used to introduce useful information on local recycling programs in our team brochure.